It seems to be a big fad among many of us.  I wrote mine in college. I compared notes with friends. It was better than playing MASH or whatever that game was called. I had a few ridiculous, far fetched ideas on there (the requirement of him having an accent was not met). But there were far more that quite aptly describe the man I'm married to. You know what I'm talking about? THE LIST! It's where so many of us ladies write down desirable traits for the man of our dreams. I am married, quite happily, to my husband of almost 4 years. I don't make lists anymore, unless they are "Honey-Do Lists". I was watching him play with the kids outside on Wednesday after we ate dinner. I was in the kid's room getting their bedtime paraphernalia and I could hear them. Being the very sneaky person I am, I watched them through the blinds. Cameron was tossing the kids into the air and catching them. They were giggling and he was cracking up. I had to stop and think about how incredible it was to have a husband who was such a good father. I have chosen wisely. I know that "Good Daddy" was on that list that I wrote before I ever knew who Cameron was. What else was on there that held true about my husband? I started to remember at 4:00 this morning when Mae was awake and took about an hour and half to go back to sleep (It's hard to keep your house quiet with two dogs and three cats. I'm learning that). Here are a few of my "Must Haves" from my
Husband List.
He must love Jesus.
I didn't just mean that he went to church on Sunday. I meant that he had to be a Christ-follower with a passion for his faith and love for others. A couple of Sundays ago one of our Pastors mentioned he gave his daughter this criteria for whomever she married: "
He should be able to lead your children to Christ."
I wrote that down. I circled that. I will remember to tell both of my children that.
Cameron grew up in a Christian family and made his faith with Christ his own when he was in High School. We experienced many of the same "Youth Group" events, we were even at some of the same concerts. I had not ever dated someone who so earnestly wanted to make Christ the center of our relationship. We prayed together, read the Bible together, worshipped together (which he said was one of his favorite activities to do with me. He told me he liked the way it felt to have me next to him singing...), and served in Jr.High group together. I was there when he got Baptized at my Bible college. I have an awesome picture of him praying with the Pastors that baptized him. It's hanging on one of our walls. Always open and honest about his struggles in his life, constantly asking me to pray for him and still serving alongside me in Sunday School, we walk together in our relationships with Christ.Oh and we still like to worship together on Sundays.
Must Love Music.
I really underestimated this one.
Cameron's whole life was music
. He had his favorite bands, but never got stuck in a rut, he was always seeking new music. Good music. On our first date he gave me a stack of CDs. You see, my CDs had been stolen out of my car the day before at my job. He brought me a few of his favorite bands and a copy of the new Dashboard Confessional single, all tied together with a ribbon. I'd take that over flowers any day.It was important to him that I have that music to share with him. (That's pretty brazen on our first date! Which happened to be a BLIND DATE.) If you can make first impressions only once, Cameron did it right in his western shirt, tight jeans and perfect gift. Our dating/engagement (which pretty much was all the same... we only knew each other for 4 months before I got a ring on my finger) was filled with car rides full of music. I will always associate Foo Fighter's
In Your Honor
with planning our wedding. Jimmy Eat World's
Futures
with driving the miles between us when I lived in Murrieta and he lived in Highland. Our first few weeks sleeping in the same bed after our wedding, I was woken up with My Morning Jacket's
Z
album in the CD alarm clock (He had bought it in New York City on our Honeymoon). The song that's been ours from the very beginning is
Everlong
by Foo Fighters. It was on every mix CD Cameron made me, I fell asleep listening to the acoustic version every night at CCBC. We walked back down the aisle in triumph to it for our wedding! He continues to make sure our lives are filled with music as a family. When I had Josiah and Mae, Cameron made sure both hospital stays were filled with music for our new additions.
Plays guitar, bass, drums, piano, etc..
.
Okay, this one is a little selfish. But I've always been a sucker for a man with a guitar strapped to him. Cameron plays guitar and use to be in a band. Not anything fancy, just a fun band he had with his best friend, Jeremy. That worked for me. He also played bass at his church. I finally got to play "Band Aid"... ;) A couple of years ago at Christmas time he sold his Fender Bass to Jeremy. He was playing my old and quite "unique" (read: terrible) Applause by Ovation guitar. He played to put Josiah to sleep and sometimes they would just jam together. It was time for an upgrade. I bought him a used Martin Acoustic guitar. It's a beautiful sounding guitar when he plays it for our kids. That's the best kind of rock star- the Daddy Rock Star.
Makes me Laugh
How cliche is that? On the surface it sounds like a line in a rom-com. Can't you just see Kate Hudson and Matthew McConaughey having "witty" banter about just needing a relationship you can laugh in? I really needed a guy that could laugh with me at things that I laughed at already. You see, I had been in a couple "relationships" with guys that had little to no sense of humor. I needed someone who could indulge me in my "wackiness". I needed someone who could meet my eye line as far as a sense of humor about life went. Cameron is my personal comedy writer. He has said things that made me almost wet myself. It's his biting humor that I love the most. Unless you really get to know Cameron, you never know this about him. He saves it up and unleashes it at the most unexpected times.
A Romantic
.
Cameron can be
sooo
good at this. Example: Our first "Married Valentine's Day".  I had to work at the bank that morning. He brought me  tulips (my favorite), Godiva chocolate, and a stuffed dog (because I wanted a real dog but we couldn't have one at our apartment complex). All the other girls at the bank were a-twitter about how lucky I was. Our second date consisted of going to Forest Falls for a night time hike (maybe he was a serial killer, I was taking my chances). I actually saw  a shooting star that night. He always maintains high expectations for anything he does for me. Even if it's everyday "Acts of Service".
Dark hair and dark eyes (preferably  a little scruffy)
Put this one next to the guitar requirement. It was out there... but I had my type. I hadn't really dated my type, but I had a TYPE. When asked by a friend (who was a dude) on a car ride home "What kind of guy do you like?" I answered with this very sincere answer (which was a bit of a portend), "I like unconventional guys. You know like Dave Grohl or Rivers Cumo." This was about two years before I met Cameron. Cameron hasn't properly shaved all but two times since we met, our first date and our wedding day. These days he's sporting what people at church call "The Jesus". He's got long hair and a beard. Sometimes he shaves it into a terrible mustache. He's my perfect scruffy guy.
Cameron is the husband God gave me. When we have tough days I remember that. I remember what I needed, what I desired in a husband, important and selfish. When I realize that Cameron fills those shoes, I can be a better wife. Looking back at lists I made or letters I wrote to my future husband (Cameron has a couple of those from me) I know in my heart of hearts that God put certain desires in me so that I would know exactly who Cameron was when I found him.
"Don't marry the person you can live with. Marry the person you can't live without."
[caption id="" align="aligncenter" width="400" caption="A million years ago."]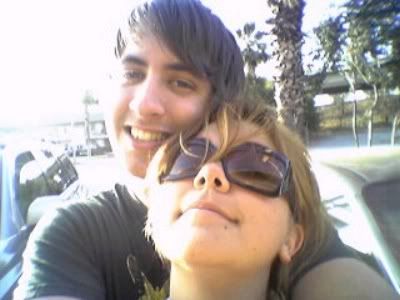 [/caption]
[caption id="" align="aligncenter" width="604" caption="We've been fruitful. We've multiplied. "]
[/caption]
I want to know from you, my darling blog readers... if you're married/engaged how did you know your man/woman was the one for you? For you singletons (I always liked that term, it's like Frank Sinatra's talking about you) what's on your list?